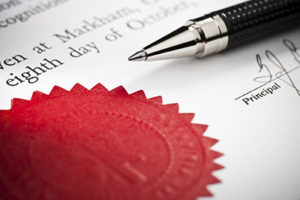 When a person dies, someone must collect, administer and distribute the person's estate. If a Will exists, it will be the nominated executor. To assist the executor and the Deceased's family in this difficult time, we offer guidance and advice with respect to all aspects of administration.
What is Probate?
A Grant of Probate is an order from the Supreme Court endorsing the authenticity of the deceased's last Will and authorising the executor to administer and distribute the estate in accordance with the Will.
Is a Grant of Probate Always Necessary?
A Grant of Probate may not be required where the estate is small and the asset holders agree to transfer the assets on sighting a certified copy of the Will and Death Certificate. Not having to obtain a Grant will of course save both time and money. However, in the absence of a Grant, the executor has no protection against creditors and others who may not have been dealt with during the administration and distribution of the estate and later seek to make a claim. Without a Grant, the executor may be personally liable for any outstanding and enforceable claims. It is therefore prudent that executors obtain legal advice with respect to their responsibilities when considering whether to proceed or not proceed with Probate.
When Does the Executor need to apply?
If an application for a Grant of Probate is lodged outside the period of 6 months from the deceased's death, the executor will need to provide a reasonable explanation for the delay before the Court will accept the application and proceed to a Grant.
The executor is responsible for carrying out the wishes of the deceased pursuant to the terms of the Will. The executor will attend to:
Organising the funeral;
Locating the Will;
Obtaining a copy of the Death Certificate and Grant of Probate;
Collecting and protecting the assets of the estate;
Paying out all debts and claims made against the estate;
Identifying the beneficiaries under the Will;
Administering and distributing the estate in accordance with the Will;
Preparing accounts, managing any long terms trusts and lodging tax returns; and
Defending any litigation.